The cricket carnival went underway on the 30th May 2019 and within a week, there have been some spectacular catches, match-winning knocks and surprise victories by the underdogs. We take you through the highlights of the 1st eventful week in the Cricket World Cup 2019.
England Roar
Credits: Firstpost
The hosts got off to a great start against South Africa, further proving why they are considered as the favourites. The highlight of the match was a stellar catch taken by England's stylish all-rounder, Ben Stokes, who recently celebrated, his 28th birthday. The celebration would have been more amazing, if it weren't for Pakistan.
Pakistan silences them
Credits: Hindustan Times
An early birthday gift to Stokesy and an early Eidi for the fans, Pakistan announced its presence by defeating the favorites. After being bowled out for a paltry score of 107 against the West Indies in their opening match, Pakistan faced a lot of flak. But the 92 champs replied in their own style. In their second match against England, Hafeez stood out with the bat, scoring a crucial 85, after being dropped on 14 by Jason Roy. In the post-match conference, when he was asked how did Pakistan manage to turn things around, he said, "Total self-belief,". Will Pakistan continue the momentum or will India be the speed-breaker, we just can't wait for the 16th of June.
Rain was expected. Along came the Gayle storm.
Credits: India Today
Chris Gayle now holds the record for the most number of sixes in World Cup matches. The Universe Boss is now ahead of Mr. 360 with as many as 40 sixes.
Bangladesh improves from 2015 and how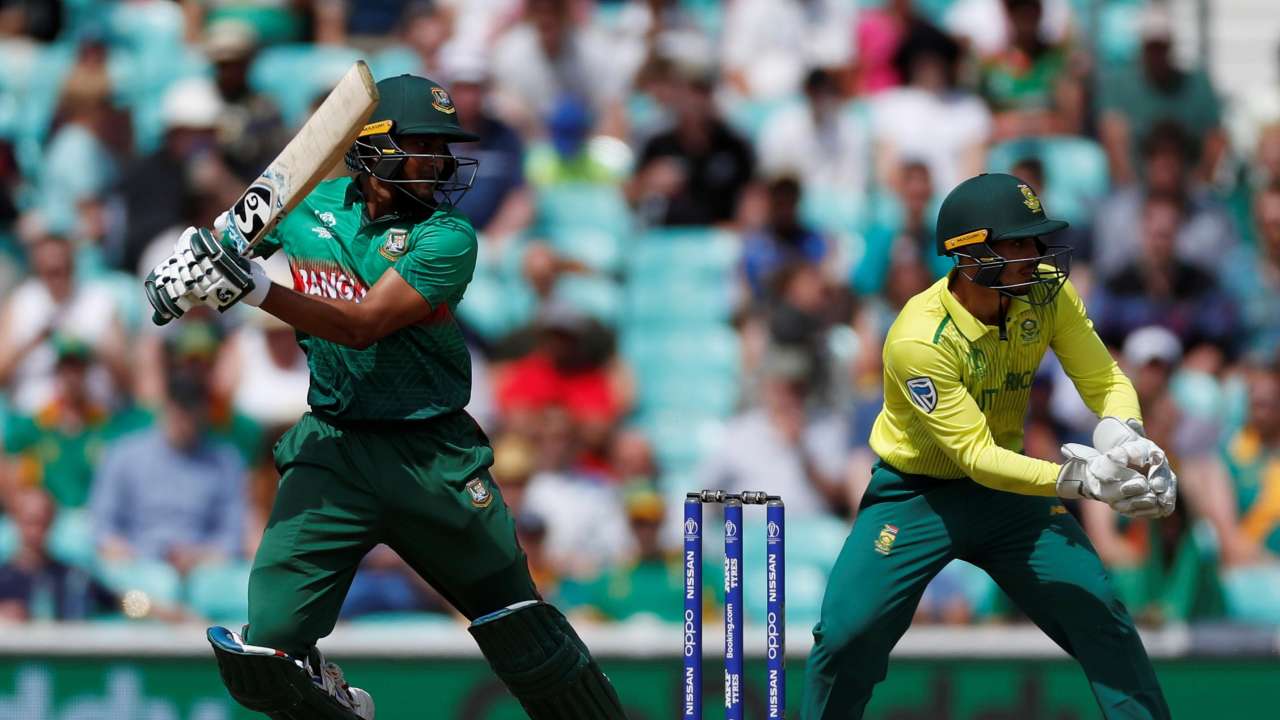 Credits: DNA India
In their first match, the Bangladeshi Tigers faced the South Africans, who were looking to bounce back after a disappointing start against England. Batting first, Bangladesh set a mammoth target of 330. The Chokers choked again as they crumbled and fell short by 22 runs. Bangladesh, in this tournament looks like a force to be reckoned with. Although they lost their 2nd match against the Kiwis, they didn't give up without a fight and kept on staging a comeback at regular intervals. They fell at least 40 runs short, otherwise the game could have been in their favour.
Men in Blue play their first match, finally
Credits: Hindustan Times
One of the strongest contenders for lifting the World Cup 2019 finally played their first match in the tournament against the struggling Proteas. India was always going to be a difficult challenge for the South Africans and it indeed was. Bumrah's opening spell, followed by KulCha's attack left Faf's team reeling. Rabada lived up to the expectations and gave a good start to his side, while defending a total of 227, but it wasn't enough as Rohit Sharma was equally determined to start India's campaign on a right note. The Hitman played a gritty inning and scored a century, giving India just the start they needed.
Luckily, the weather in Britain hasn't played a spoilsport, yet. We hope that none of the matches gets washed away and we get the cricketing action that we deserve after 4 long years of wait. If you like a little extra, then join India's leading fantasy cricket experience platform, BalleBaazi and you can win up to ₹30 Crores. Make a team, predict, and win, it's that simple. To know more about our leader-boards and a host of other prizes that are up for grabs, this World Cup season, click here.
Loved the Blog? Let us know in the comments below. Also, don't forget to Download the BalleBaazi App now for the Most Amazing Fantasy Cricket Experience. Lots of Winnings & Offers to Cash In.
Download link: https://ballebaazi.app.link/9KH9MQi3kQ