By far in this edition of the IPL, we have had two clear cut qualifiers to the playoffs in Chennai Super Kings and the Delhi Capitals finally breaking their playoff jinx against the Royal Challengers a few nights back. The battle today, however, is going to be very interesting since these two teams have been the bottom two sides in the major portion of this year's IPL- Rajasthan Royals and Royal Challengers of Bangalore.
Let us look at their head-to-head stats:
Head-To-Head
| | |
| --- | --- |
| Total | 20 |
| Rajasthan Royals Won | 10 |
| Royal Challengers Bangalore Won | 8 |
Clearly, RR are a bit ahead and when it comes to playing at the Chinnaswamy, they've clearly dominated RCB. RCB, on the other hand, have defeated RR in Bangalore only in the 2013 season and have been losing against them since they came back into the picture.
With both teams having an almost equal chance of both getting qualified and disqualified in the playoffs they'll be playing with a nothing-to-lose attitude.
An Even Stevens neck-to-neck
Credits: The Sportsrush
Both these teams have been running at almost the same pace in the tournament losing and winning almost the same number of games right now being bottom two in the table. So, it's going to be interesting how they approach today's game as they both have considerably improved from where they began in this season.
Slim Chances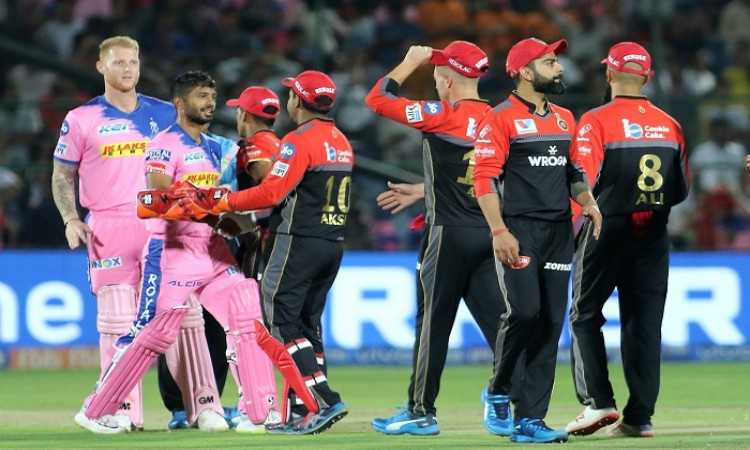 Credits: CricketNMore
Royal Challengers could be the first side this season to crash out of the IPL after facing a severe loss from Delhi Capitals, their chances of making it to the playoffs are really slim. On the other hand, RR have come a long way and scared off dominating sides to make their name in this season. Under Steve Smith, RR can still make it to the playoffs even if they lose this one. RCB's win will still need a few permutations and combinations of other teams' performance.
Bowling Concerns
Credits: NYOOOZ
With Dale Steyn falling back to injury and going back to South Africa, RCB is back to the only consistent curse they've been facing throughout IPL- The Bowling department. Umesh Yadav, Siraj, are constantly being thrashed everywhere. Yuzi Chahal & Saini are the only bowlers who've shown some kind of grip in the bowling department. However, no score too big can be defended by this bowling line-up as far as their performance this season.
The Royal Comeback
Credits: Hindustan Times
After having a nightmare of starts, Rajasthan have come back and how! They've shown great consistency and attitude towards winning games. Unadkat, Smith, Rahane, Samson are all in great touch and have been shocking opponents with their performance through and through. In today's game, it's going to be interesting to watch how they go about in stopping the Kohli-AB run machines & get through the RCB batting line up.
With the toss playing a major role in today's competition, let's hope we get to witness some 'Royal' gameplay and may the best team win!
Loved the Blog? Let us know in the comments below. Also, don't forget to Download the BalleBaazi App now for the Most Amazing Fantasy Cricket Experience. Lots of Winnings & Offers to Cash In.
Download link: https://ballebaazi.app.link/9KH9MQi3kQ