July 7 is one day that has redefined the history of cricket as one of the modern legends of the game, a man with a legacy and the greatest Captains of all times was born. Yes, we wish Mahendra Singh Dhoni a happy happy birthday as he turns 38 today.
Thala, Captain Cool, Mahi, Man with a Midas touch or whatever you call him, he is one man who has revolutionized cricket for not only India but for the rest of the world too. Here's a look into what MS Dhoni has brought to the cricketing world.
That Iconic Hairstyle
Credits: Sportswallah
It is said that MS had copied his friend's hairstyle who was a huge fan of Australian all-rounder Ian Harvey. Well, how many of us really remember the latter? It was Dhoni's look that became a rage in the Indian youth and it was the first time when people moved over the 'Tere Naam' era to a dashing longer-haired look sported by the latest heartthrob of Cricket.
The Helicopter Shot
Credits: PakPassion
Yes, you've not seen him play this shot for a while now & it's Hardik Pandya who's been capitalizing on it lately. But, whenever you talk about this shot there's that amazing memory that comes to the mind when he hit James Anderson over long on for a mammoth six and world cricket was flabbergasted by what they saw.
Ticket Collector to Trophy Collector
Credits: The Cricket Lounge
ICC World T20 2007, Cricket World Cup 2011 & Champions Trophy 2013: The only Captain on the planet to have won all three ICC trophies for his country. It's a pity that today, we speculate him on the way he's been batting against spin or his strike rate but we should never forget about his legendary contribution to the Indian Cricket. His journey from a ticket collector at Kharagpur station to the big cricket stage is as inspiring as it can be.
The Swagger Behind the stumps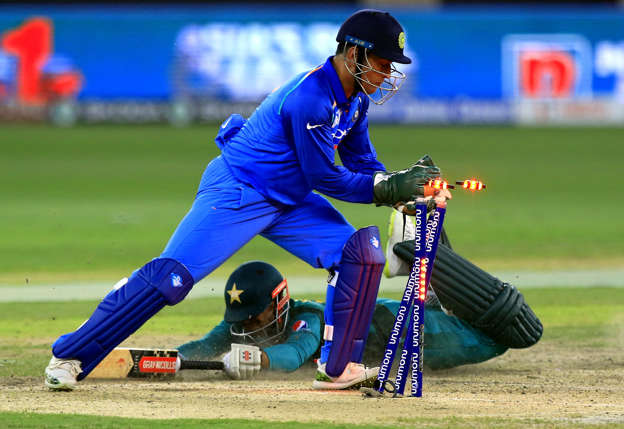 Credits: MSN
'Ek Chhakka Kha Ke Dikha', 'Sree Thoda Idhar ho Ja Udhar girlfriend Nahi Hai', 'Udhar Umesh Ko Isiliye Khada Kiya Hai, Vo Taali Bajaane Ke Liye Nahi Hai', 'Isko Aage Daal, Dekh Kaisa Volleyball Ki Tarah Khada Hai' : Yes, the stump mic has given us all these gems from the master wicketkeeper behind the stumps. Apart from his lightning-quick stumpings and innovative run outs, Dhoni has been an entertainer when it comes to instructing players on the field
The Finisher
Credits: Scoopwhoop
That iconic last ball six of CWC 2011 will always remain printed on every Indian Cricket Fan's heart because MSD just gave us the perfect fairytale by winning the World Cup in his own unique style. He has won us a number of tournaments while chasing taking games right down to the wire including the one against Australia when he hit Clint McCay for a 112 m six at the MCG.
The Dhoni Review System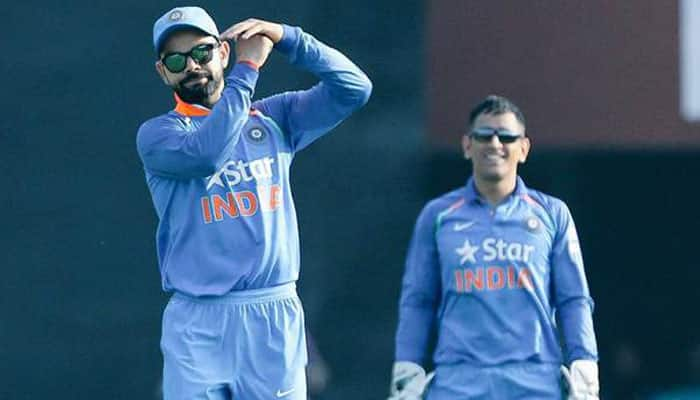 Credits: Zee News
DRS has been given a totally new definition by this man. Virat Kohli always turns to his go to guy whenever stuck with a review decision. More often than not has Dhoni been spot on whenever taking the decision to go against the umpire's call. Moreover, he's still the on field Captain when it comes to cheering up the bowler or setting up the field.
Captain Cool: On & Off The Field
Credits: Storypedia
We all are very aware of his calm & composed attitude during tense situations in a game even when he was Captain. But after-match conferences were never so much fun. Remember how he asked a New Zealand journalist to come and sit beside him on the discussion about his retirement? Well, all we know is that there's absolutely nothing the Man with the Midas touch cannot do.
Loved the Blog? Let us know in the comments below. Also, don't forget to Download the BalleBaazi App now for the Most Amazing Fantasy Cricket Experience. Lots of Winnings & Offers to Cash In.
Download link: https://ballebaazi.app.link/9KH9MQi3kQ