Despite major setbacks in his career and personal life, Yuvraj Singh built a strong reputation for being one of the cleanest strikers of the cricket ball. His resolve never gave way even when he decided to put an end to his career as one of India's all-time limited-overs greats.
Yuvraj Singh has finally bid adieu to an illustrious international career that spanned over 19 years. He revolutionized the art of batting for the Indian team. The 37-year old is regarded as one of the greatest limited over players that the nation has ever produced. In a recent press release, the left-hander felt that he was lucky to have played 399 games for India across all formats.
It is pretty evident that he played a major role in the Indian team's every big success. And with loads of memories regarding his impressive skills on the field, let's recall his all-time favorite moments in Indian cricket:
World Cup 2011: Man of the tournament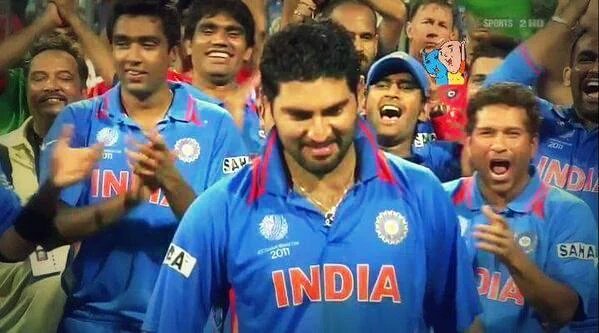 Credits: Twitter
This was his biggest moment back in 2011, when he invested every bit of effort to bag the World Cup. This was the year when he went through one of the toughest periods, fought through Cancer and even within that duration, the fighter in him was reluctant to leave the field.
His never give up attitude was visible in his knock of 113 against the West Indies in Chennai. His best knock came in the crucial quarterfinal game against the Australians as he took his team to victory with a composed 57*.
Yuvraj's dream to grab the World Cup was achieved when MS Dhoni hit a six off Nuwan Kulasekara.
ICC T20 World Cup: Six sixes off Stuart Broad
Credits: DNA India
India had little hopes when they arrived for the T20 World Cup in South Africa.
They took on England in their second super-8 game after facing defeat against New Zealand. With batting first, the openers laid a brilliant foundation by the time Yuvraj Singh came to the crease. Soon after, he brilliantly scored a 12-ball 50 which still stands as the fastest 50 in all forms of the game.
Yuvraj was unstoppable after that, scoring maximums over long-on, long-off, square-leg, and deep point. Those six sixes surged India to the knockouts and then to the T20 title.
NatWest Series Final 2002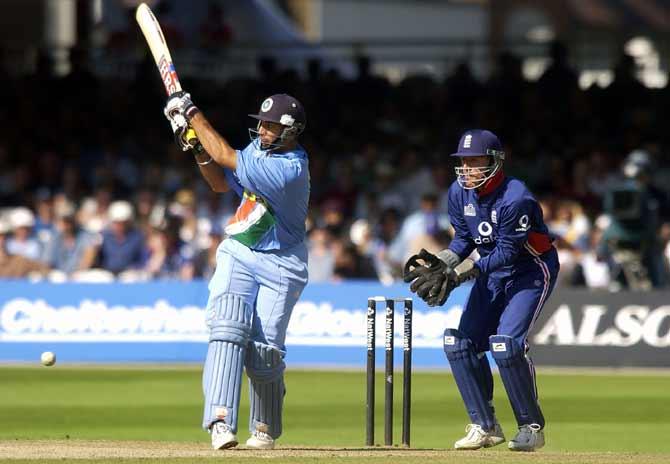 Credits: Rediff.com
India had high hopes on Sachin Tendulkar that day! Although on 13th July 2002 he got out at 146-5 with India chasing 325 to win in the NatWest final against England. Soon after, Yuvraj Singh and Mohammad Kaif graced the field oh-so-proudly!
Yuvraj aggressively attacked Ronnie Irani to keep up with the required rate. He also negated the left-arm spin of Ashley Giles who was terrific on the day. His 69 off 63 balls brought back the team within touching distance. Eventually, India scripted one of the most memorable series wins as the legend of Yuvraj started to grow big.
Impressive 84 in his debut innings vs Australia in ICC Knockout Cup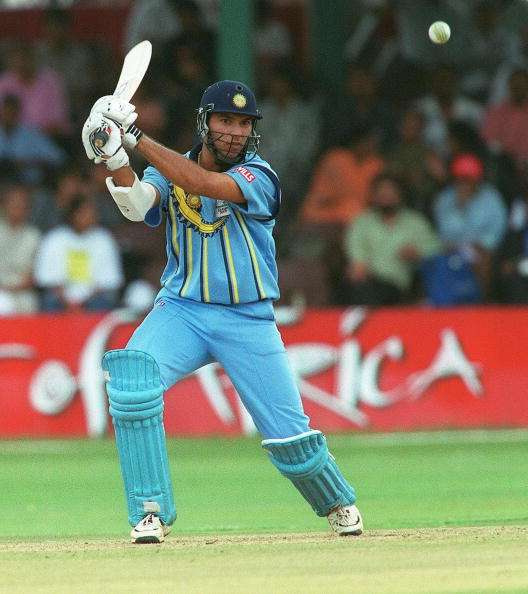 Credits: Sportskeeda
India went against World Champions Australia in the quarterfinals of the ICC KnockOut Cup, back in 2000. Sourav Ganguly and Sachin Tendulkar got the team off to a flying start, but the team lost quick wickets and were reeling at 90-3.
Singh came to bat for the very first time and smoothly took the attack to the opposition surprising the Aussies. His bat swing impressed everyone as he made run-scoring look super easy against a quality pace attack.
The 18-year old first steadied innings with a 64-run partnership with Robin Singh before bringing up his 50 off just 46 balls. He continued to plunder the attack as his 84 helped India post a match-winning total of 265 on board. That inning proved that India had found a player who could end up as one of the finest white ball players.
Record Partnership with Tendulkar in the 2008 Chennai Test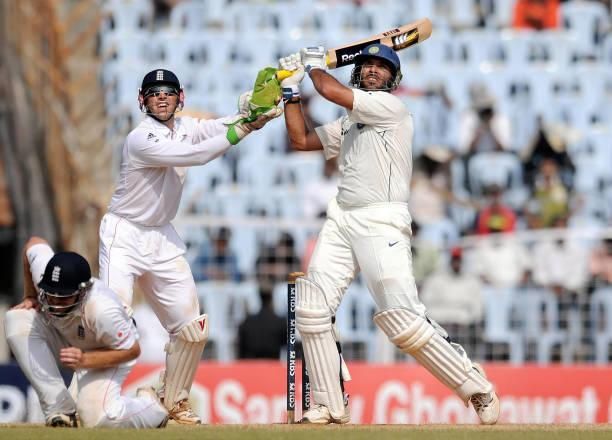 Credits: Sportskeeda
Yuvraj Singh had his moment to shine in ODIs when Ganguly called it quits in 2008. Playing with a back injury, Yuvraj hit two consecutive centuries in the ODI series against England. But because of the terror attacks in Mumbai that time, the tour was cancelled midway. The Englishmen came back after a fortnight for the Test series.
England team gave India an improbable target of chasing 387 in four sessions. Sehwag raced to 83 off just 68 balls which gave the impetus for India to go for the target on the last day. The game was in the balance when Yuvraj walked into bat at 224-4. His calm demeanor along with Tendulkar's class helped India achieve the impossible milestone. Their unbeaten 163-run partnership won the game which brought immense joy to the entire country.
Isn't he just incredible? The same reason why we have chosen Yuvi as the proud brand ambassador of BalleBaazi- one of India's most trusted fantasy sports website. Read here to know more. Join the Baazigar of cricket on BalleBaazi: Download the app now-https://ballebaazi.app.link/9KH9MQi3kQ