We defeated them in the 2007 WT20 Semis, the 2011 Semis & they came back at us in the semis of 2015. Yes, arch rivals Australia are back as India face them in Cardiff today. An unbeaten side with their bowling doing the major damage in both their opening games against an Indian side that is here as favorites & coming from a completely dominating game against the South Africans.
Out of 11 clashes on the big stage, India have managed to win only 3 while Australia has dominated in all departments. However, different sides different results maybe?
The Crucial Top Order 
Credits: Hindustan Times
India's Top 4: Rohit, Dhawan, Kohli & KL have to fire up any how in order to dominate this game against the Kangaroos. Hitman scored a classy century in the first game but it's Shikhar Dhawan who is still seeking his trade mark ICC tournament form. Both KL & Kohli will have to play to their merit in order to give India a solid foundation.
Run Machine Rumbling?
Credits: FoxSportsAsia
After the first match, getting out in his trademark style outside off, Virat has been struggling on the England pitch big time as he managed only 18 off 32 deliveries against the Proteas before he perished to a Rabada beauty outside off. Virat Kohli's century might just be on the cards considering his aggression and attitude against his favorite rivals.
Lean Mean Pace Machine
Credits: Times of India
Mitchell Starc, Pat Cummins & Coulter-Nile were able to stop the Windies at a very crucial stage before the Caribbeans could take the game away from the Aussies. Similarly Bumrah, Shami (probably given a chance) & the Kul-Cha combo look in a great shape hitting the deck hard & taking wickets in the middle overs. The competition's going to be fierce on a batting wicket as these bowling aces put their paces to good use.
Burden of History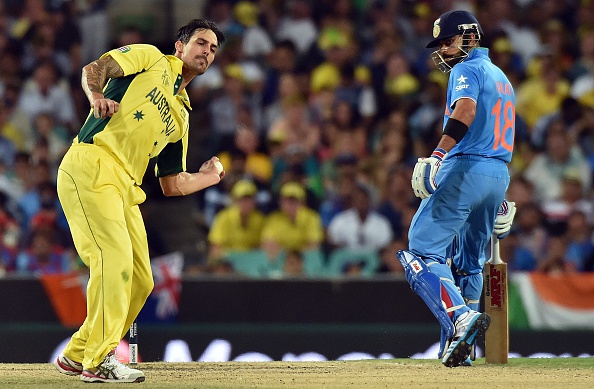 Credits: Sportskeeda
Australia have clearly dominated us in the past but again, it's a new Indian side backed by the Captain of aggressions & fight backs. Along with Mahi's expertise, Virat & Co. might just be able to overlook this fact and play this game like a regular match continuing their good form against the current world champions.
May the best team win!
Loved the Blog? Let us know in the comments below. Also, don't forget to Download the BalleBaazi App now for the Most Amazing Fantasy Cricket Experience. Lots of Winnings & Offers to Cash In.
Download link: https://ballebaazi.app.link/9KH9MQi3kQ